How It Could Be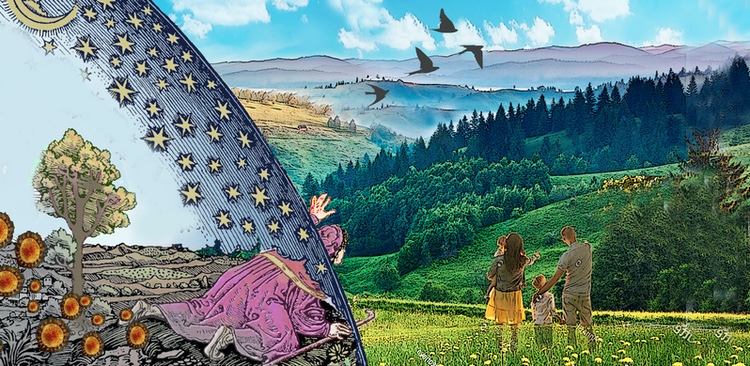 The ultimate, hidden truth of the world is that it is something that we make, and could just as easily make differently.
– David Graeber
We are all well aware of the serious issues we face collectively, from growing polarization and wealth disparity to ecological degradation and a warming planet. The purpose of this effort is not to address these problems directly – this vital work is being conducted tirelessly on many other fronts – but to suggest an approach to personal and interpersonal development that fosters meaning, purpose and fulfillment in our lives, even in a troubled world. As a natural byproduct of doing this inner work ourselves, we contribute to healing our larger divisions.
A single phenomenon underlies all our common predicaments: a widespread failure to perceive and feel our deep-rooted interconnectedness. This is not a breakdown of actual interconnectedness, which is always operative whether in harmony or discord, but of our awareness and sensing of this most fundamental fact of our existence.
When we consciously experience our intrinsic connectedness, we feel secure and contented, and tend to think and act in solidarity. When we believe and feel that we are separate and disconnected, we are more likely to feel unsafe and distressed, and thus prone to think and act divisively.
It Starts with Our Inner Connection
In the maelstrom of our complex, demanding and increasingly stressful lives, it is all too easy to lose touch with the feeling of being connected to each other and the whole of nature. This erosion of sensed connection also happens with our own deepest nature. When we lose touch with our inner core – our inborn source of strength and goodness – we inevitably weaken our recognition of the same core of goodness in other human beings. And vice-versa: when we feel disconnected from our fellow humans and nature, our sense of connection to our own core is weakened.
Correspondingly, as we discover, explore, and become more familiar with our own innermost nature, we more readily recognize and connect to the corresponding depths of our fellow human beings and the natural world. And as our feeling of connectedness to others and all of life strengthens, so does our connection to our own deeper nature.
Since our own inner core is the realm where we have the most personal agency and responsibility, revitalizing our connection to the center of our being is the most rewarding and consequential work we can do. Everything else flows from this.
Knowing and connecting to our inner core involves enhancing our ability to experience the attentive equanimity residing at its innermost center, a state I call Just Being. Learning to experience this ultimate state of repose at our core does not mean renouncing thinking and acting in the world. It means developing our capacity to think and act from a deeper, more consciously connected place and thus produce thoughts and actions that are more creative, courageous, and compassionate.
However our collective future unfolds, our personal lives and the well-being of those closest to us are best served by recognizing and progressively grounding ourselves in the strength and goodness at the center of our being – and reaching out to the same core in others.
~~~
Complete list of site contents